White African noted last week that in "The Best of Blogs, "there's a number of African blogs in there" and a lot of activity over the last month in the African blogosphere.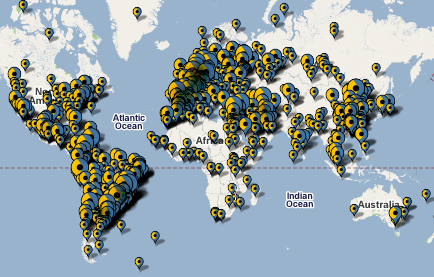 The nominated blogs include two from Africa:
Recently, when Joshua S. Fouts (a.k.a Schmilsson Nilsson in Second Life) who directs the USC Center for Public Diplomacy was interviewed by John Jainschigg for Grid Talk on Second Life, much of the latter part of the talk was spent discussing issues of digital divides with the audience.
Schmilsson noted that among other infrastructure challenges in Africa, "40 countries on the African continent do not have reliable Internet access. Thus, they are not a part of our conversations here. This is a major problem." The conversation that followed covered a number of the hotly debated issues around the role of technology in situations where food, water, clothing and medicine are pressing needs.
This is an ongoing debate at Uthango's Virtual Africa project (for more about this see Africa's Second Life, Our Virtual Reality). Uthango are also coming up with creative ways to connect global virtual communities. They are currently organizing a BLOG CARNIVAL. The Grid Talk discussion on Public Diplomacy indicated there is much interest from Second Life residents in the topic of Infrastructure development in Africa. The blog carnival is an opportunity to connect this conversation to the wider online community and African bloggers in particular. Alanagh Recreant of Uthango explained:
We believe that Africans offer a unique perspective on global issues and all stops should be pulled out to increase their authentic presence in virtual worlds.
The BLOG CARNIVAL topic is: "Infrastructure as an Enterprise Enabler in Africa." The carnival is managed by the acclaimed blogger Benin Mwangi (currently with African Path and respected writer for Global Voices Online, Africa Ready For Business).
It is really simple to participate by using the little form provided here:

http://blogcarnival.com/bc/submit_1680.html

Do you have any article or would like to say anything about INFRASTRUCTURE development in Africa? (This could include IT infrastructure or property or any other kind…)

Choose a blog article to share, and note its Permalink URL.
Fill in the other fields (hint: copy and paste!), and hit Submit .
Uthango's Virtual Bike-a-thon
Uthango Social Investments is blazing the trail for African participation in immersive virtual worlds like Second Life while continuing to work at all levels of community development, on-line and off-line. Part of the registered not-for-profit company's work include asset-based community development to identify gaps and find resources for adequate infrastructure, such as small business 'incubators' and shared community ICT facilities.
Another related ongoing project from Uthango in Second life is the [e]bizikile fundraising drive for a specific Opportunity Center in a Cape Town community for unemployed job seekers. Uthango's Directors speak about transference from SL to RL and vice versa. They point out the [e]bizikile project could be an example of their attempts to do just that! Real life bicycles are also for sale as part of the project and will be donated to an African family in rural Africa.
"In many parts of Africa, bicycles (and mobile phones) are the appropriate technology to drive the local economy," says Enakai Ultsch of Uthango.
Second Life residents can purchase virtual African bicycles designed by Shukran Fahid of !BooPeRFunK! for L$250 and next year, participate in a grid-wide virtual bike-a-thon (for more Ambling in Second Life). I picked up my bike at the November 15th launch party.